| | |
| --- | --- |
| | |
Profiles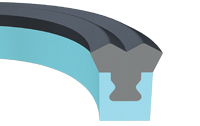 Square Z-Seal

The standard Z-seal has a single lip design.


---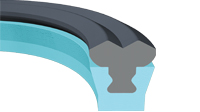 Deep Z-Seal

Deep Z-seals are designed with a greater tolerance to side loading and additional compensation for axial run-out. The double lip design provides greater resistance to compression set and extended life for the elastomeric seal element. Deep Z-seals are ideally suited for dynamic rod applications as the depth of the design provides an increase in stability in higher-pressure applications.
---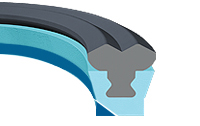 Deep Z with Delta Back-up

For applications exposed to severe shock loads or large clearance gaps, the modular "Delta" back-up ring provides the most economical way to close diametrical clearances with additional resistance to extrusion. Positively actuated to control friction, the split Delta design allows ease of installation and retains original seal height and groove depth.


---


Part Numbers

Example:
Z 5000 3000 750 D - Urethane base/Nitrile seal lip Deep Z-Seal - 1/2" C/S, 3" I.D., 3/4" Height
Z-Seals standard part numbers are based on a urethane base material and a nitrile loader. Other popular materials include a Fluorotrel® base, Viton™ loader, and low temperature loader.
Go to
Z-Seal size charts
.
---

Design Considerations
Surface Finish
The chart below provides you with a general guideline on surface finish. However, RMS surface finish alone does not ensure good seal performance and in some applications you will need to contact Hi-Tech Seals for additional recommendations. Surface finishes that are too high or too low can reduce seal life.
| | |
| --- | --- |
| Static | 320 RMS |
| Dynamic | 16 RMS |
Extrusion Gap
Radial Depth H

emax at 60°C

2300 PSI

3600 PSI

5800 PSI

0.125

0.008

0.004

-

0.156 to 0.187

0.014

0.008

-

0.218 to 0.250

0.018

0.010

0.004

0.281 to 0.437

0.020

0.012

0.006

0.500 to 0.562

0.024

0.012

0.008

0.625 to 0.750

0.024

0.012

0.008





Radial Depth H

emax at 80°C

2300 PSI

3600 PSI

5800 PSI

10000 PSI

0.187

0.021

0.013

0.008

0.005

0.250

0.028

0.018

0.011

0.007

0.312

0.044

0.028

0.017

0.010

0.375

0.044

0.028

0.017

0.010

0.500

0.059

0.038

0.023

0.014